Corporate Relocation: 5 steps on how to tackle your corporate IT relocation.
Corporate IT relocation can be a challenging task. Minimising downtime and ensuring a smooth transition, requires huge amounts of planning and execution. In this article we will outline 5 tips for ensuring a smooth corporate IT transition.
Examine Your IT Infrastructure
Assessing your IT infrastructure is the first step in preparing for a corporate relocation. This includes identifying all hardware, software, and data that must be relocated, as well as any potential issues that may arise during the relocation process. You can create a detailed plan for moving your IT infrastructure to the new location by conducting a thorough risk assessment.
Choose the Right Moving Partner
Choosing the right IT relocation company is essential for a smooth IT transition during corporate relocation. Look for a company that specialises in IT relocation and migration which has worked with businesses of your size and industry in the past. A qualified moving partner will assist you in planning and executing your IT transition, minimising downtime and ensuring your technology is operational as soon as possible.
Please feel free to request a quote with us to determine the best plan for your workspace, you can find our request a quote form here: https://connectium.co.uk/request-a-quote/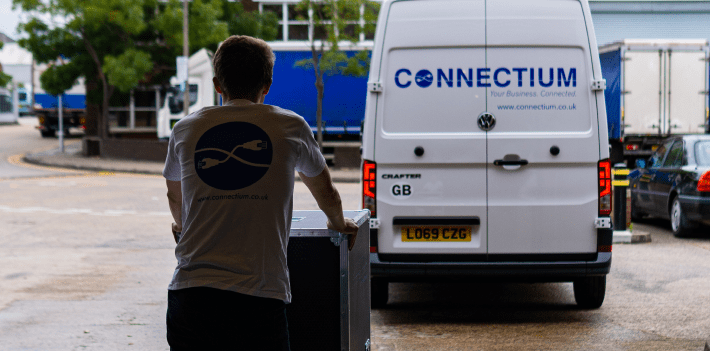 Back Up Your Data
It is critical to back up all of your data before moving. This includes any files, documents, or applications that you have stored on your servers or computers. You can avoid losing critical information during the relocation process by creating a backup of your data.
Test Your Systems
It's vital to test your systems after the move to ensure they're working properly. This includes network, server, and other IT infrastructure testing. Most IT relocation companies are only able to test start up functions, this means you will need to conduct your own in-depth checks. Action any issues as soon as they are made present as this will lower your downtimes. If you are looking for a more in-depth look into system testing, be sure to head over to https://www.softwaretestinghelp.com/data-migration-testing/ where migration testing processes can be broken down.
Update Your Address Information
Most companies forget this crucial step of their relocation! Be sure your address information is up to date with all vendors, clients, and partners. Update your website, business cards, and other marketing materials. You can avoid confusion and ensure a smooth transition for your business by keeping your address information up to date.
In conclusion, corporate I.T relocation can be a complicated process, particularly when it comes to your IT infrastructure. By following these 5 steps, you can ensure a smooth transition and minimise downtime, allowing your company to continue operations in its new location.
Back to all articles